'Reply all' creates chaotic email chains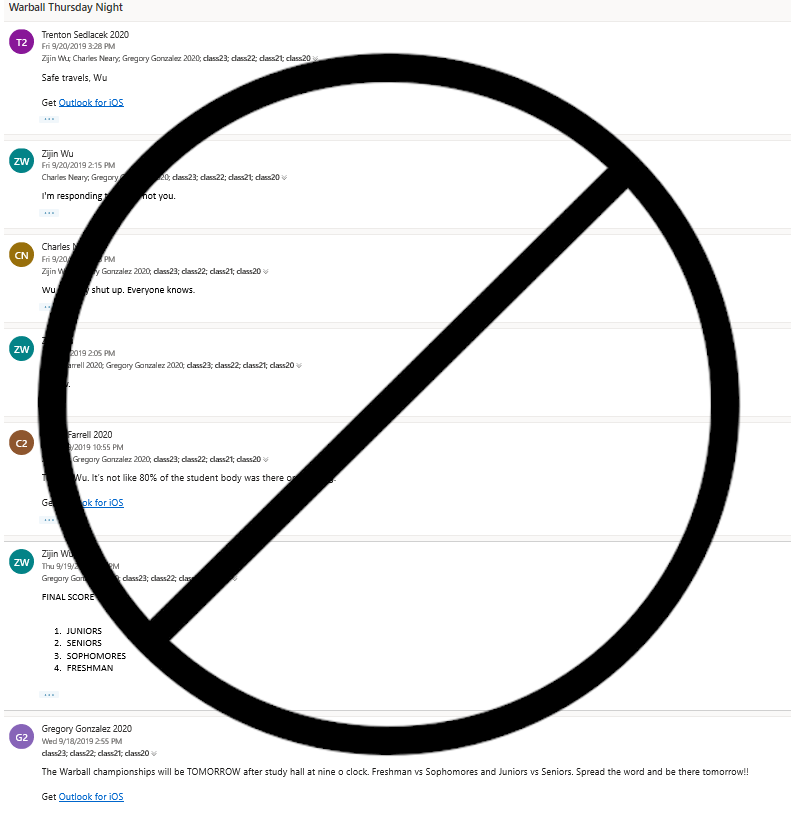 Emailing is an essential part of life on campus. With most announcements, notices, and personal communication being sent using Microsoft Outlook, email is used every day by most of the student body. However, like any resource, this tool is not always used wisely, as some misguided students decide to broadcast inane messages to the entire student body
In the past, massive email threads filled with useless banter, spamming people's inboxes with excessive updates to a pointless argument.
These threads usually start with a yell leader informing the students about a game or a student asking for others to complete a survey. After that, someone trying to be funny or intending to one-up the last comment decides to hit reply all and send a message to everyone.
After that first message, the whole thread quickly devolves into a huge botherance of people debating a point or a joke, trying to stop the thread while making it worse, or replying in an attempt to make the first offender repent for their actions.
Some famous examples include former student Zijin Wu's '23 replies to emails with informal responses adding nothing to the conversation, the class of 2020's thread concerning the "Tem," and 2018's argument about grammar and the absence of Jarrett Cline's '19 baseball cards. Countless side topics, all of them pointless, spawned from a simple email.
Though these emails seem entertaining and even hilarious to a few, they are, by and large, annoying and excessive. They are extraneous and tiring and fill everyone's inboxes with something that should be discussed privately or, better yet, not at all.
Some people attempt to be the hero and terminate the thread by telling off the person that started it. However, this rarely works and often falls apart. An example of this was Charlie Neary's '23 attempt to stop Wu's useless responses to the warball championship's final score. What initially started as a valiant effort quickly devolved into Neary being rude to Wu in a public display.
Although some students perpetrate this more than others, the rule goes for everyone. If you have to think twice about hitting reply all, you probably shouldn't send it. These email threads are tiring to read, and you're putting your mediocre joke or jab at someone on display for not just students, but also faculty to read. Reply all is a tool that should only be used for the genuine benefit of the whole school.
View Comments (1)
Donate to The Mount Online
Your donation will support the student journalists of Mount Michael Benedictine High School. Your contribution will allow us to purchase equipment and cover our annual website hosting costs.