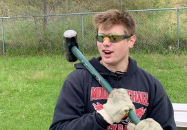 Due to PSAT testing, the seniors took advantage of a day without classes to give back to the Omaha community. They visited the Habitat for Humanity ReStore on 108th and Maple with Father John Hagemann '67 and Father Daniel Lenz '76.
"I taught social justice here and knew about Habitat for Humanity," Fr. John said. "I've always wanted to do a project there with our students, and it worked out to do it this time."
Habitat for Humanity is an international company that is founded upon "bringing people together to build homes, communities, and hope," according to their website. The ReStore part of the organization takes things that people do not want and restores them for sale at a lower price.
"This company helps the less fortunate get back on their feet by setting them up with an affordable house and mortgage, as well as providing household items at a low price," Joe Bazata '20 said.
In the past, the seniors had their retreat on the PSAT testing day. However, due to scheduling issues at the Pro Sanctity Center, the seniors had their retreat earlier on Oct. 3. This left an open day for them to serve in the community.
"I thought it was a great opportunity for the seniors and something we can do in the future as well," Fr. John said.
During the day, the seniors performed a wide range of jobs such as making crafts, unloading products, demolishing items, and cleaning around the store.
"My favorite part was demolishing different items," Calvin Benson '20 said. "Sean Stumpff swings a mean sledgehammer."
Although the overall experience was largely positive, there were some kinks that needed to be worked out during the day.
"If I could change one thing, I would have more jobs available for the volunteers," Bazata said. "At times, it seemed a bit crowded at some of the spots."
The trip provided more than just an activity for the seniors to partake in on a day with no classes. They learned lessons that they can carry with them for the future.
"I saw how important it is to give back when you can, and to donate things instead of throwing them away," Benson said. "The vast majority of their products were donated, and it will all eventually be used to better somebody's life."
Moving forward, the administration will decide if this will be an annual event for seniors on PSAT testing day.
"I think it would be a good idea to continue this because the seniors as a whole were able to help others," Evan Schroder '20 said. "It was such a fun time together and is something that everyone will remember."