Senior embodies team, qualifies for state
After choosing to take up swimming his sophomore year, Joseph Johansen '20 has only improved. Progress has been a tough journey and a "tiring" experience, but he has become a powerhouse, breaking school records left and right. Johansen's biggest inspiration was learning from the older kids on the team.
"Pretty much all of the older guys on the team were my inspiration," Johansen said. "It's weird now because I'm one of them."
Johansen mainly focuses on the 50m and 100m freestyle, with personal bests of 22.32 and 49.27, respectively. Recently, he decided to try out other events such as the 200m and 500m freestyle. Though he is nervous for state, he is still looking forward to it.
"I think I'll perform pretty well," he said "Since I'm not tapering for conferences, I'm just going to practice before and try my best."
Throughout his years, Johansen noticed that swimming is more than just the strokes and the pool. The team aspect, a combination of students from both Skutt Catholic and Mount Michael, has grown on him.
"Swimming to me is definitely more than a sport. I see everyone on the team as family," he said. "I know that I will remember them and the memories more than my times."
The team benefits from Johansen's presence as well; head coach Kellie Harris appreciates that he is a "quiet leader." Recently, when Johansen was gone for a week, his leadership was missed.
"He left for the March for Life for a week, and I was a little shocked that the other boys got wilder without him," she said.
Other swimmers also look to Johansen for inspiration. Xavier Johansen '22, his younger brother, is also on the swim team.
"What really stands out about Joseph is that he's a really good swimmer," Xavier said. "He's really a one of a kind swimmer."
Johansen has improved since he began sophomore year, and he is trying his hardest to get better in each meet before state. Harris has noticed his progress.
"I've been excited to watch him this year as he has gained a lot of confidence from the past two seasons," she said. "He won't like me saying this, but he used to get so nervous."
In the end, at the state meet, the outcome can go three ways. Either Johansen gets the best place and time, gets the best place but not the best time, or does not do either.
"In an ideal world, we could always have the first conversation, and that's what I hope for Joseph and everyone who competes at state," Harris said. "Overall, I want to see him get his best time and be proud of himself."
Harris appreciates Johansen's impact on the team.
"He's nice, he works hard, and he swims fast. What's not to like?" she said.
Johansen leaves a few words of advice for anyone who wants to swim.
"Work hard, and practice," he said. "Even if the set doesn't apply to you, just have fun."
Leave a Comment
Donate to The Mount Online
Your donation will support the student journalists of Mount Michael Benedictine High School. Your contribution will allow us to purchase equipment and cover our annual website hosting costs.
About the Contributor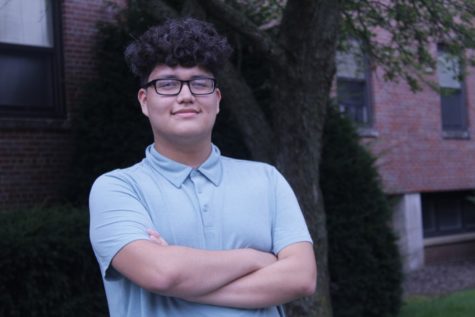 Aiden Frazier, Photo Manager and Reporter
Aiden Frazier is a photo manager for the Mount. Aiden is in charge of managing the photos used in the print and online edition. He joined the team in 2020...