Teachers adapt to e-learning
Teaching from home and moving their whole curriculum online threw many teachers for a loop when they found out on March 13 that they would return from spring break to shutdown school.
According to an online poll, 70% of teachers said that they had to completely redesign their curriculum so that it was suitable for the online environment.
Throughout the process, teachers had to digitize all their papers, notes, tests, and textbooks. Not only that, but they also had to teach through a webcam,hoping students would still learn and pay attention.
"The hardest part of e-learning is making sure that all the students understand the directions and what is to be completed or turned in," engineering teacher Shanna Sedlacek said.
During this time, the teachers also had to figure out what technology platforms to use to present material. Students and staff all have a Microsoft account, so many went with the Microsoft Teams application.
After Teams, the second most common software was Zoom. Many teachers choose this platform because Zoom allowed all schools to bypass the forty minute time limit for free, and most teachers enjoy using it.
"At least I can still make contact with my students, and we can share some humor," English teacher John Gathje said.
This transition was hard for most teachers; however, some teachers found good things that can come from this situation. Other than keeping everyone healthy, it can teach the students valuable lessons.
"My favorite part is creating your own schedule so that you can work on certain things at different times," physics teacher Michael Williams said. "It is more like a college atmosphere."
The teachers have challenged themselves to try new teaching tactics as well. Many have sent out surveys to get the students opinions on how they would like to be taught virtually. .
"It's forcing all of us to think outside the box and consider new ways of learning and explore new topics," religion teacher Eric Westra said.
Still, the transition went as smoothly as could be expected because of all the support from the staff and students. .
"I'm really grateful for the patience and flexibility students have shown with their crusty, old, technophobic teachers," Westra said.
Although, this change was hard for most people in their personal life, as well as having to continue school from home, In the end, the teachers rated the transition from classroom to computer a 3.6/5, with 40% of teachers saying they did feel prepared to go by the first day.
"As an administrator who has been watching other classes, I am very proud of both our teachers and students for how they are making the best of this situation," dean of students Dave Cormier said.
Leave a Comment
Donate to The Mount Online
Your donation will support the student journalists of Mount Michael Benedictine High School. Your contribution will allow us to purchase equipment and cover our annual website hosting costs.
About the Contributor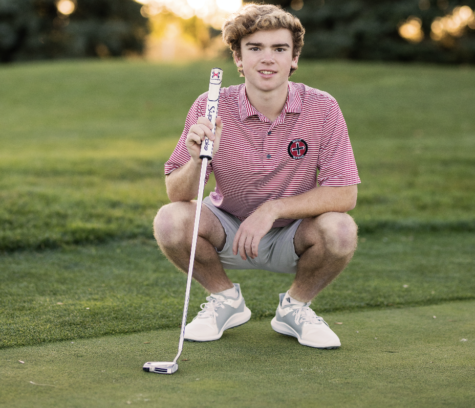 Landen Fogle, Chief of Distribution and Design
Landen Fogle, a senior, is in charge of the publications at the Mount. He currently is a layout designer and manages the articles. He joined the team in...