Family experiences affects of Covid 19 pandemic, carries on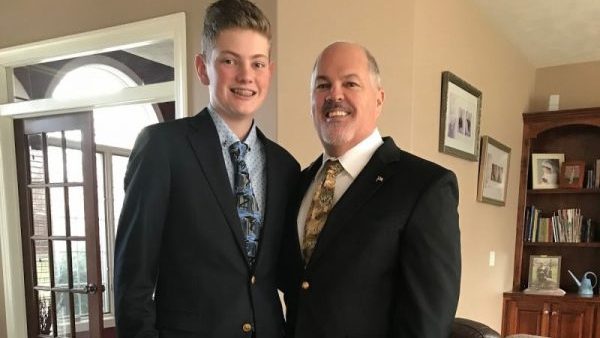 The coronavirus has drastically impacted the lives of every single person in the United States, and even though Nebraska has limited their cases to numbers that are dwarfed by states such as New York and New Jersey, medical professionals are still feeling and seeing firsthand the effects that the pandemic is having on the world.
Dr. Patrick McMahon, father of Brennan McMahon '21, is an ER doctor at Methodist hospital in Elkhorn where Nebraska's first COVID-19 patient was admitted. McMahon was on duty when the patient came to the hospital and he was exposed, so upon returning home from work, he quarantined himself away from his family, having no face-to-face interactions with anyone for 14 days.
"Being quarantined was more difficult than I thought it would be, and very boring," Dr. McMahon said. "Feeling like people are afraid to be around you is also discouraging."
Although the quarantine was a struggle for Dr. McMahon, himself, it sent shockwaves through his family as well.
"When I heard the news that he was going to be quarantined I was in complete shock," Brennan said. "At that time I never had thought the virus would affect the state of Nebraska, much less my dad. The threat of the virus became very real, very fast."
McMahon has since passed his 14 day quarantine and has returned to his work at the Methodist hospital. Throughout the experience, he gained a new perspective and appreciation for the work that he and his peers perform everyday, not just in these extreme times.
"The progression of the coronavirus has changed my mindset regarding work," Dr. McMahon said. "It has led me to appreciate how people in the medical field are truly willing to risk their lives to help others."
Even though McMahon was cleared and able to return to work, Brennan still worries that working in such an environment may be potentially dangerous.
"I'm obviously fearful of the situation because you look on TV and you see the numbers and you see how serious the virus is, but I know that he has never turned away from someone in need, and right now people need him," he said.
Leave a Comment
Donate to The Mount Online
Your donation will support the student journalists of Mount Michael Benedictine High School. Your contribution will allow us to purchase equipment and cover our annual website hosting costs.