Sports fans share unity of lovable losers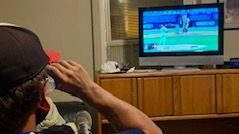 Fans around the country are finding themselves back to rooting for their favorite sports teams as most collegiate and professional leagues have worked around the pandemic. Sports are back to provide some long-awaited entertainment.
While some fans return to rooting for their favorite powerhouse teams like the Yankees and the Lakers, some devoted fans go back to the pain of their lovable losers.
Fans of these lovable losers have been through it all: late season collapses, losing seasons, and bad draft picks. While some may pity the fans, teams, and cities of these organizations, they still come together as one every season just to watch their teams and favorite players get crushed at the hands of their rivals.
"I have been a Rangers [Texas] fan my entire life, and I grew up in Dallas. I go back to watching them even though their best seasons have passed in recent years, and none of them ended with a World Series unfortunately," Luke Gutschewski '21 said.
Regardless, these teams and fans such as Gutschewski hold a special place in sports. They provide a place for fans to consolidate and celebrate an unprecedented history of failure.
Here , the same applies. Deans and students alike root for a variety of teams that have been historically mediocre or are today's lovable losers.
Eli Crnkovich '21's favorite, the Kansas City Royals, won a World Series in 2015 but have since returned to their historically woeful ways, having one of the worst World Series drop-offs ever.
"Since we've won the World Series, we have been terrible," he said. "I've thought about switching teams, but I will always stay with them."
While some fans such as Crnkovich hope to return to recent glory years, fans such as senior dean Tim Jacoby have been through it all in the span of their lifetime. Jacoby was originally born and raised in New York. He grew up rooting for all sports teams from the area like the Knicks, Jets, and especially the New York Mets.
"In 2015, my Mets lost it to Eli's Royals," Jacoby said. "And in 2000, when they also lost in the World Series, it was tough. But I will always remember my favorite player David Wright as a great captain, leader, and third baseman."
Jacoby and Crnkovich's experiences are similar. Both have endured years of losing, one just longer than the other. The blame can surely go around. Anywhere from a Steve Bartman incident to the Curse of the Bambino are incidents that fanbases can turn to as a consequence for years of losing.
When it comes down to it, the more cap space and bigger payroll a team has, the more successful chances they have of winning. Teams in Boston and New York have better chances of winning than teams in Tampa and Oakland, and historically, this has proven to be true.
Therefore, when these lovable losers in any sport make a run to the playoffs, it is common to see fans turn to them. With the luckiness of a diamond in the rough draft pick, a magical mid-season comeback, or a wild card game win, a historically terrible team can have their shot at sports glory.
In fact, when a team's losing drought ends or comes close, many fans come together from around each league to root against league perennial powerhouses and root for their lovable losers.
These lovable losers play a part of sorts in the American dream. Infamous lovable loser, Charlie Brown, will finally kick that football, and when he does, sports fans and fan bases across the country will rejoice in ending their stretch of heartbreak and marking their name in the sports hall of fame.
Leave a Comment
Donate to The Mount Online
Your donation will support the student journalists of Mount Michael Benedictine High School. Your contribution will allow us to purchase equipment and cover our annual website hosting costs.