Knights narrowly defeat Antlers, continue undefeated season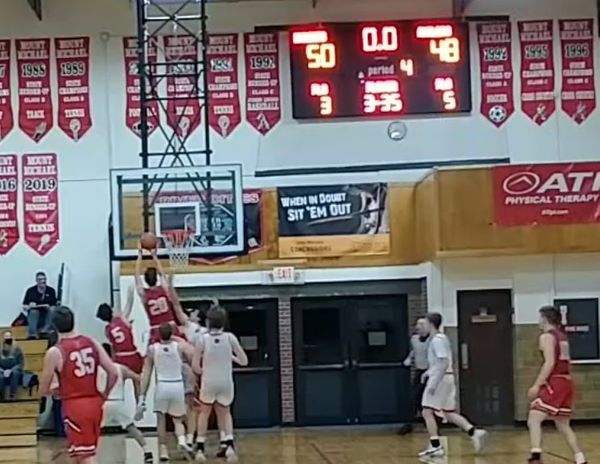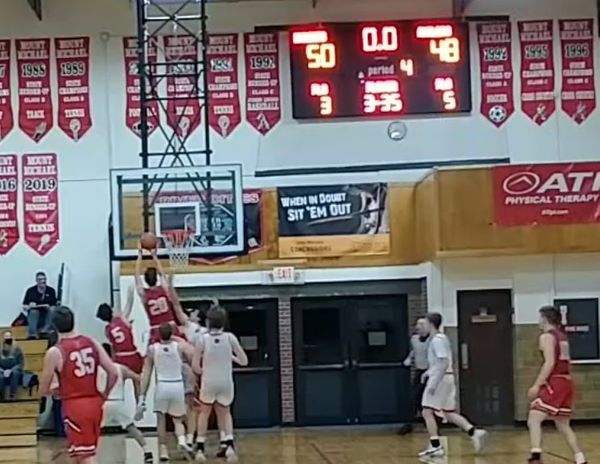 The sound of the buzzer goes off as Elkhorn's final shot falls through the net. The referees storm to the middle of the court and authoritatively wave off the shot with a swift signal.
The gym immediately shouts in uproar, some cheering, while some hold their hands over their head, shocked in disbelief as the Knights picked up another win at the Palace, 50-48.
The matchup between two top teams, one seed Elkhorn Mount Michael and sixth seed Elkhorn, brought an atmosphere almost similar to one of a normal year's game, with a gym at only one-third capacity bringing the intensity and cheering that the normal student section usually does.
After the first half, the Knights led the way with a score of 21-17. Following a closely contested third quarter, Mount Michael maintained their lead 38-33. After a stretch of threes by Elkhorn in the fourth, the Knights still led by four with two minutes remaining.
"We ultimately expected it to come down to the last possession. They are a good, tough, physical team," guard Airan Lopez '21 said.
Elkhorn scored to cut the lead to two with under a minute remaining. Following a block on the Knight's last possession, the Antlers scrambled down the court and put back a missed layup while the buzzer went off.
"It was just so close, but I knew it went in after [the buzzer]," power forward Kyle Pelan '21 said. "We made enough good plays to win the game, and I am glad that we came out with the W."
The game came down to that final shot, proven to be after the buzzer following the game. Both teams fought hard, with the Knights coming out on top, improving to 7-0 on the year.
Lopez led the way with twelve points, Kaleb Brink '21 had eleven, and Brad Bennett '21 had nine.
"We had a lot of guys step up at different points in the game," Lopez said. "I hit a few shots, Kuon and KB [Brink] hit big shots in the fourth, and a solid team effort really helped us win the game."
The Knights will most likely meet the Antlers again later this year, with their district matchups consisting of Elkhorn and Elkhorn North.
"Elkhorn is a very good team," Brink said. "Their combination of skill, athleticism, and size makes them difficult to play. While we didn't score as well as we usually do, a win is a win."
Leave a Comment
Donate to The Mount Online
Your donation will support the student journalists of Mount Michael Benedictine High School. Your contribution will allow us to purchase equipment and cover our annual website hosting costs.