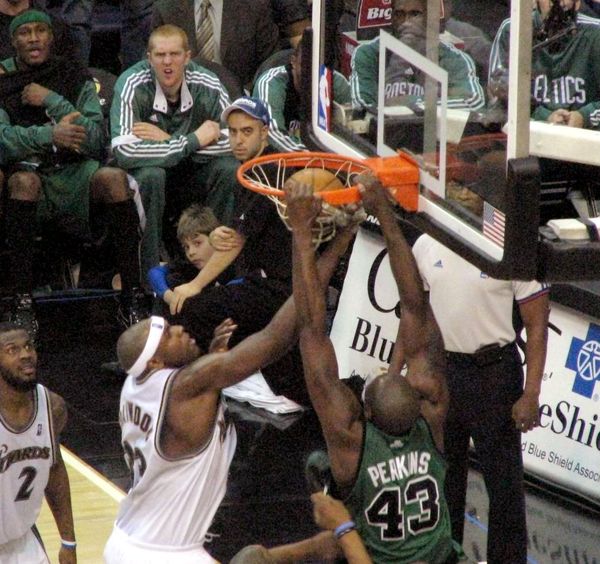 Many NBA player's careers have been thrown under the bus. It's very common that an NBA player, who barely averaged at least 15 points throughout his career, is seen as a trashy player.
Kendrick Perkins is the perfect example of someone who never put up high numbers in his career and gets bashed for it. Lately, this bashing has grown to a new level. In his role as a NBA ESPN analyst, he reports hot takes that create a lot of controversy. This is ridiculous.
That's like me trying to tell Sam Gustafson '21 that he had a horrible wrestling match. I don't know anything about wrestling.
For those who don't know him, Perkins was a former NBA champion who played for the Boston Celtics, Oklahoma City Thunder, Cleveland Cavaliers and New Orleans Pelicans. He was the twenty-seventh overall pick in the first round of the 2003 NBA draft and played his last game in 2018 with the Cavaliers.
Yet people have been trashing his career forever. They have been completely disrespecting the work this man put in for 15+ years to get to that high level.
While these accolades may not seem noteworthy, they should count. Perkins is a 2008 NBA champion, a 2003 First-Team Parade All American, 2003 Texas Mr. Basketball, and a 2003 McDonald's All-American; some of these were achieved before he even made it into the league.
Are these achievements even valuable? Well, compared to most people who physically couldn't get a D1 college offer if they tried, I think these are pretty valuable.
Perhaps the disrespect is because Perkins barely played in games and averaged 5.4 points, 5.8 rebounds and 1.0 assists a game. Yes, these stats are pretty low. He may never be seen as a good NBA player, but the fact of the matter is, he made it to the league.
Not only did he make it to the league, but he played for 15 seasons. Do you know how many skilled basketball players get rejected from the NBA or don't even make it to the draft? The chances of making it into the NBA are very slim. The chances of playing at that high of a level for 15+ years are even slimmer.
I'd like to see the people who hate on this man go out and try to score five points in an NBA game. No matter how terrible Perkins may have been compared to other players, he has always been levels above each and every one of us casuals.
We need to cut this guy some slack.
Perkins is now retired, chilling in his mansion with a net worth of about $18 million. If I were in his position, I would be proud of my career and wouldn't pay attention to the talentless haters.