Acadeca Decathlon team prepares for state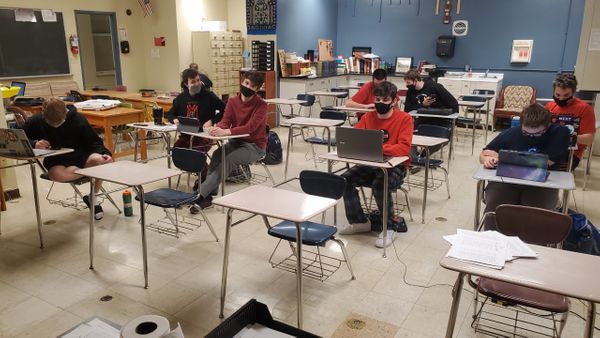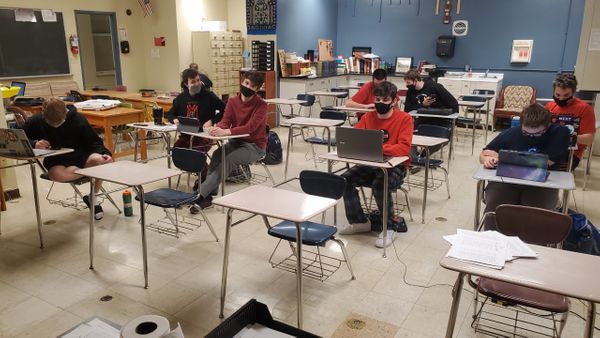 The Academic Decathlon state tournament will begin on Feb. 19 and will go through Feb. 20. The school has thirteen decathletes this year, and of those thirteen, at least six will attend the state tournament.
Head coach Dave Cormier is currently in his ninth year as coach where he has led the team to seven small school state championships in a row. In 2017, the team beat out all schools in the small and large divisions, thus qualifying to attend national competition.
With COVID-19, preparations have changed for all sports and activities; Academic decathlon is no exception.
"We have had some of the students working entirely remotely, which makes it harder for the whole group to work together as a team," Cormier said. "Having all of our competitions online is not nearly as fun; it is much better for lots of schools to come together and see each other when competing. I'm hopeful that next year can be back to normal."
Despite all the difficulties from COVID-19, Cormier feels confident in the team's preparation and is proud of how hard everyone has worked to overcome the obstacles.
"I think the team has worked pretty hard up to now," he said. "They did well at the regional competition, and most of them are close to having their speeches ready for state. There is still a lot of memorization and studying to do though."
Academic decathlon takes a lot of time and energy with the amount of studying that must be done every year, especially before the state tournament.
"I always worry about the team burning out on studying," Cormier said. "We used to work really hard before the regional competition, but then they were exhausted by the time state happened. We are getting into the last two weeks of intense preparation right now, and I think everyone will be okay."
All members of the team have goals that they would like to achieve heading to state. A member of the Academic decathlon team who came first in small school varsity last year, Jack Giitter '22, is confident about his chances heading into state this year.
"I want to place in the top three, hopefully number one, in my division at state," Gitter said. I would also like to get a scholarship for my accomplishments at state."
Despite his confidence, there are still obstacles who hopes to get past.
"I am worried about the math test, and I am worried that I may get easy questions wrong, which is always the worst," he said.
Michael Mullin, another varsity competitor, hopes to medal in at least eight subject areas and hopefully become an overall state champion, but has a different worry heading into the competition.
"I am worried about my speech and interview," he said. "They are some of the hardest subjects to prepare for, and they are my weakest areas."
Almost everyone on the team has competed in state at least once with the exception of two new decathletes.
"I think that experience will help them succeed at state this year," Cormier said.
Leave a Comment
Donate to The Mount Online
Your donation will support the student journalists of Mount Michael Benedictine High School. Your contribution will allow us to purchase equipment and cover our annual website hosting costs.
About the Contributor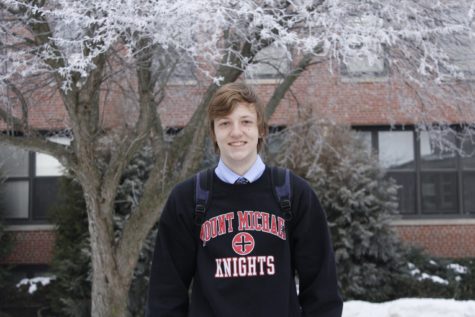 Andrew Skaggs, Reporter
Andrew Skaggs is a reporter for The Mount. He joined journalism in 2020 as a junior. He enjoys playing basketball and playing outside.