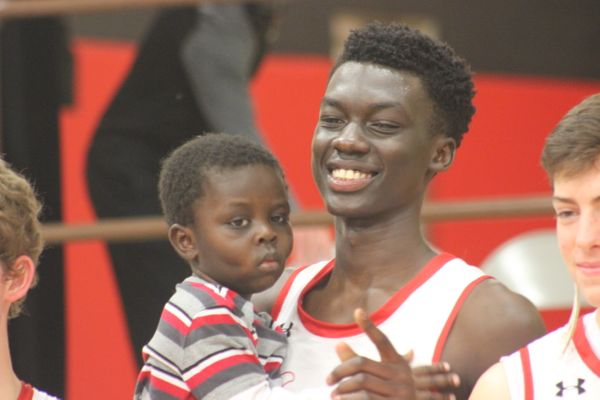 The Knights opened district play on Feb. 22 at Elkhorn High against the newly established Wolves of Elkhorn North. The Knights were able to breeze through both postseason games by the end of Feb. 23. They won by twenty-six points against the Wolves and five against the Elkhorn Antlers.
The Knights had improved since the last time they met the Wolves on Dec. 19. The Knights' defense struggled mightily the first time around but had a strong showing this time, holding the Wolves to just forty points and racking up eleven steals.
"I was proud of the way the team as a whole; we played great defense compared to last time. It also helped that we shot the ball well from beyond the arc, " Brad Bennett '21 said.
Beyond this, the amount of shots the Knights knocked down helped ignite the student section and crowd making it feel more like a home game.
"It was great to see how in sync the team was," manager Jason Nyamatore '21 said.
After a big win the Knights moved on to play their old-time rival, the Elkhorn Antlers.
Mount Michael started out winning the tip. Elkhorn stuck with them for the first quarter, but in the second the Knights began pouring it on as they made four consecutive threes and forced the Antlers to use two of their timeouts.

From the beginning, the Knights were hot from beyond the arc as they knocked down twelve threes, helping them reach a nineteen point lead by the third quarter.
The subdistrict final started to look as if they were going to blow out the top-seeded Antlers. They jumped out to the big nineteen point lead making it seem as if they had the game in hand, but then it got very tense as the Knights watched the Antlers chisel down their lead to just five after many misses and a hot streak from the Antlers. The Knights made key free throws in the final minutes to maintain their lead. They won by a final score of 65-60.
The Knights played Sidney on February 27 for a chance to go to the state tournament in Lincoln and won by a final score of 82-42.