Trial and Triumph: The Hardest Year at The Mount
There is a case to be made for each year of high school as the most difficult. At Mount Michael, the college preparatory standard and challenging course load can make any year demanding. Teachers, boarding status, and classes can influence which year a student finds most strenuous.
For freshmen, it can be a challenge to get acclimated to a high school environment, especially at an academically demanding school. A student's ability to get accustomed to high school can be based on the grade school they attended, their teachers as freshmen, or their academic ability. Catholic grade schools in West Omaha are notable for preparing their students for college preparatory high schools.
School counselor Mrs. Christy Crnkovich said, "West Omaha schools have the resources, and so those schools can make things a little more challenging and the expectations are different at those schools. It makes things a lot more stable and cohesive."
Classes such as biology, speech, and geometry or Algebra I can make for a demanding course load in students' first year. In addition, students' intelligence is also a factor.
"Smart kids are going to be smart no matter where they go," Crnkovich said. "It's the kids that are in the middle that always make the biggest impact here."
In the past, many students and teachers have noted sophomore year as the most challenging academically. Though some feel they can ease up their second year as they become more comfortable, this is not the case at Mount Michael. Sophomores are still required to take at least seven classes during the day. Classes such as chemistry, Algebra II, and Spanish II or French II can be challenging. In addition, many more electives are offered to sophomores.
"Even though I got more comfortable after freshman year, the sophomore classes were still hard," Andrew Busenbark '24 said.
In a recent schoolwide poll, students overwhelmingly voted junior year as the hardest year at Mount Michael. Out of 97 responses, over 70% of students voted for junior year. This is because it is the first year AP and Honors are offered, which can earn participants college credit and boost a student's GPA.
Drew Van Haute '23 voted junior year as the hardest, saying, "Junior year is the hardest because the AP classes and physics are challenging."
Some students jump at this opportunity and unintentionally bite off more than they can chew, leading to a difficult course load and, in some instances, causing students to drop classes early.
"When things line up and certain students end up having the opportunity to take five or more AP in the first year they are offered, it can be stressful," said Jacob Sykora '23.
Junior year can also be the first year student-athletes begin to compete in varsity sports, leading to less study time outside of school. On the other hand, when varsity opportunities disappear, it can lead to a challenge.
Director of Admissions Thomas Maliszewski, who graduated from Mount Michael in 2013, said, "A lot of kids choose Mount Michael to play sports and I think Mount Michael gives kids a lot of opportunities to play sports. But junior year is the year you start getting exposed and, when varsity sports don't work out, it makes for a tough year."
Senior year is the year most people ranked as the least difficult year at Mount Michael, as only two out of the 97 students voted it as the most challenging. The difficulty of senior year is dependent on course load, and students' classes in their final year can be significantly influenced by the classes they take the year before. In addition, many seniors may already be looking ahead to college, choosing to take classes based on their interests. The infamous "senioritis" may even set in, causing students to laze and drop classes at semester.
Sykora said, "It got to a point where my late homework was stacking up during the production of the play, and senioritis definitely set in."
Whether students are day students or boarders can also affect their perception of how difficult each year is. Boarders have an hour and a half study hall every night to help them study and get homework done. Additionally, boarders can ask their roommates for help. Day students, on the other hand, have more flexibility, as they do not have an eleven o'clock bedtime like boarders do.
Every student's opinion of which year is the hardest can differ based on their experience, but at Mount Michael especially, there is a claim for each of the four years as the most rigorous.
Thankfully, Mount Michael has many resources available to all students. The Writing Center is open every period and offers help with proofreading, grammar, and content. The counseling center is also open all day with two considerate, accommodating counselors in Mrs. Christy Crnkovich and Mrs. Kim Schumacher.
Leave a Comment
Donate to The Mount Online
Your donation will support the student journalists of Mount Michael Benedictine High School. Your contribution will allow us to purchase equipment and cover our annual website hosting costs.
About the Contributor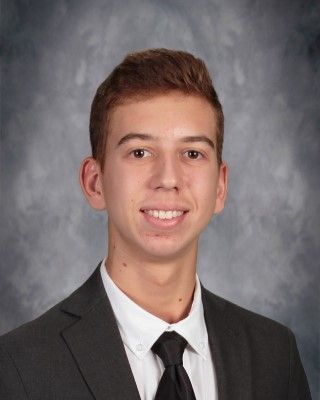 Sam Schwartz, Editor-in-Chief






Sam Schwartz joined The Mount Journalism team in 2021 as a reporter. Schwartz also participates in track & field.