All U.S. President's Basketball Team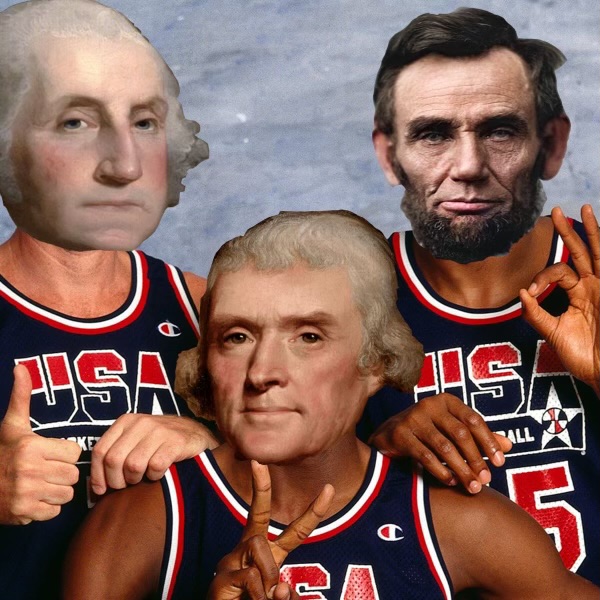 After a lot of positive feedback on the All U.S. presidents football team, I've frequently been asked the question, "What's next?" Well, with winter sports starting up, I thought I would give the Mount Michael community what they wanted: my take on the all U.S. presidents basketball team. 
Point Guard: George Washington – 6'2
George Washington was always known for being instant offense during his time as a general, and there's no doubt it will translate to the basketball court. He is a seasoned veteran that will help the younger players find their way. He should use his tight handles to cross defenders like he crossed the Delaware River in 1776.
Player comparison: "The Logo" Jerry West
Shooting Guard: Barack Obama – 6'1
Being the only president that had a competitive basketball career, Obama is a lanky athlete that will surely lead this team in scoring. He would distribute the ball evenly amongst his teammates, since he firmly believed in the distribution of wealth amongst American citizens. 
Player comparison: Kobe Bryant
Small Forward: Thomas Jefferson – 6'3
Coming in slightly undersized for his position, TJ is a versatile forward who will be a lockdown defender. After all, someone who wrote the Declaration of Independence will definitely be able to write up championship-caliber defensive plays.
Player comparison: Andre Kirilenko
Power Forward: Abraham Lincoln – 6'4
"Honest" Abe Lincoln knows better than anyone the importance of teamwork. He is also a proven winner, as he led the Union to victory during the Civil War. Abe's main role on the team will be shot blocking and rebounds, but don't sleep on his sneaky inside game.
Player comparison: Hakeem Olajuwon
Center: William Howard Taft – 6'0
Despite being extremely short for the center position, William Howard Taft makes up for it, weighing in at an incredible 350 pounds. He should use this to his advantage by playing bully-ball on offense and holding down the paint on defense.
Player comparison: Troy "The Escalade" Jackson or Charles "The Round Mound of Rebound" Barkley
Bench PG- John F. Kennedy – 6'1
Growing up in a household that loved sports, JFK's childhood was filled with athletics. This love of athletics followed him all the way to college, where he played golf and football at the Junior Varsity level at Harvard. However, his height may inhibit his ability to close out on shooters.
Player comparison: Devin Booker
Bench SG- Andrew Jackson – 6'1
Having challenged more than 100 men to duels, Andrew Jackson was clearly a talented shooter and that's exactly what you'd want out of your shooting guard. However, he was more known for having a short temper, famously saying, "I was born for a storm, and a calm does not suit me." Let's just hope he doesn't get in too much technical foul trouble.
Player comparison: Patrick Beverly 
Backup SF- Richard Nixon – 6'0
He looks really good on tape. His jump shot is water. He is always ready to go right out of the gate.
Player comparison: Ty "Lawsuit" Lawson
Backup PF- Bill Clinton – 6'2
Being the leading scorer of his church-league team, Clinton has great size and will be able to stretch the floor and knock down the three ball when necessary. However, his downfall will likely be his loyalty to the team.
Player comparison: Tristan Thompson
Backup C-  Donald Trump – 6'3
Having been a varsity athlete at the high school level, Trump will be a valuable asset in the pick and roll game with his ability to form a wall between the defender and ball handler. Not to mention, his trash talking game is always on point and he will surely get under the opponent's skin. 
Player comparison: Dennis Rodman
Water Boy – Joe Biden
Being the oldest president to ever hold office, 80 year old Joe Biden certainly won't be running up and down the court
Leave a Comment
Donate to The Mount Online
Your donation will support the student journalists of Mount Michael Benedictine High School. Your contribution will allow us to purchase equipment and cover our annual website hosting costs.
About the Contributor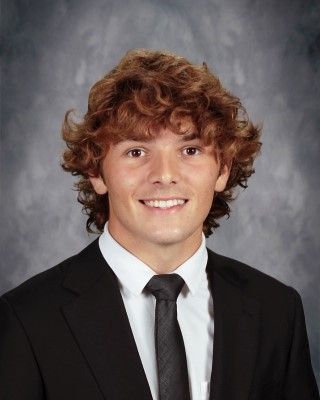 Jack Huber, Reporter
Jack joined The Mount Journalism team in 2021 as a story editor. Huber also participates in football and golf.