Sneakers Become a Major Part of Fashion Culture
On May 28, a pair of Air Jordan 1 sneakers, which retailed for $65 when they were released in 1985, sold for $30,000 on the online resale platform StockX. While this may come as a surprise to most, it is a commonality in the sneaker world.
In 2021, a pair of Kanye West's Yeezys made in collaboration with Nike and worn by West himself at the 2008 Grammys, sold for $1.8 million. This sale made them one of the most expensive pairs of shoes ever sold.
These prices show the rapid expansion of the resale sneaker market, which will continue to grow as collectors invest in limited edition "deadstock" shoes. "Deadstock" items are new and unworn and have a higher value than pre-owned shoes.
StockX, one of several popular online marketplaces, makes purchasing and selling these "deadstock" sneakers and other items much easier for collectors. The site tracks sneakers' real-time value and recent sales, similar to the stock market.
Sneakers can range in price due to factors such as colorway, style, or whether they are "celebrity-worn." But ultimately, the fewer sneakers there are available, the more they will cost. Both the Air Jordan 1's and the Yeezys show how culture can have a major influence on fashion and the cost of that fashion.
One prominent example of cultural influence on sneakers is the Nike Air MAGs. First debuted in the 1989 film "Back to the Future Part II," the shoes were released to the public in limited quantities in 2011 and then again in 2016. Similar to the film, the shoes are battery-powered, self-lacing, and feature an electroluminescent outsole. According to StockX, the pair from 2016 is currently valued at over $75,000.
This is not the only time Nike has collaborated with a cultural influence. Dior, Ben & Jerry's, and Travis Scott are among the many companies and celebrities with whom Nike has partnered.
Sneaker resale can be considered a profitable side hustle for some people. Those who choose to invest in the booming market of sneaker resale usually start by purchasing a sneaker at retail value upon release from companies like Nike or Adidas. Or, as an alternative, they can buy a shoe they believe will increase in value in the future, similar to the stock market, and resell the shoe at a later date for a profit.
Some of the top collectors may possess hundreds or even thousands of pairs within a lifetime. They may purchase with the intention of resale or for mere enjoyment, but either way, the sneakers will express each buyer's self-culture.
The prime example of this is The Chicks with Kicks. Sisters Ariana, Dakota, and Dresden Peters own the world's largest sneaker collection. Their collection is loosely numbered at over 6,000 pairs, which they partly inherited from their parents, but mostly have gained through their own venture. They plan to open an interactive sneaker shop in Florida soon to sell off the collection (sneakerfreaker.com).
Sneaker conventions are also held worldwide, which provide an opportunity for vendors and collectors to buy, sell, and trade some of the most sought-after footwear. The most popular of these conventions is Sneaker Con, which travels and can be held in any large city around the world.
Today, sneakers are seen as more than just shoes and are used as a means of self-expression. As stated by Jeff Goldblum in his television series "The World According to Jeff Goldblum," "Science, […] and psychology, and a certain amount of style has turned a simple mass-produced, rubber-soled shoe into an icon."
Leave a Comment
Donate to The Mount Online
Your donation will support the student journalists of Mount Michael Benedictine High School. Your contribution will allow us to purchase equipment and cover our annual website hosting costs.
About the Contributor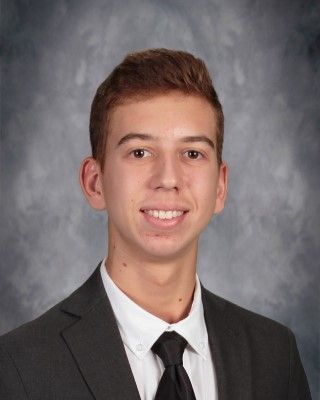 Sam Schwartz, Editor-in-Chief






Sam Schwartz joined The Mount Journalism team in 2021 as a reporter. Schwartz also participates in track & field.