Senior takes position change in full stride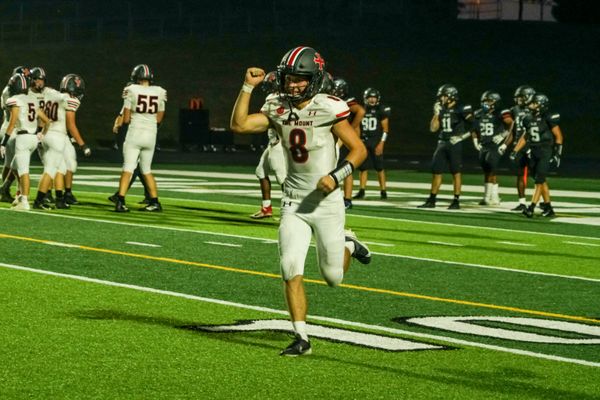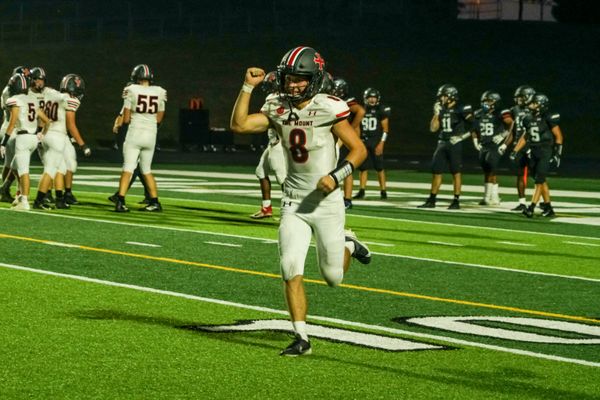 Throughout his high school football career, Eli Crnkovich '21 has played a plethora of positions for the Knights, including wide receiver, tight end, cornerback, running back, and safety. However, due to an increase in injuries this season, he is faced with what many said was the biggest challenge yet: quarterback.

"We knew we needed an experienced player who could handle the weight of playing quarterback and someone who we trusted as coaches to be an outstanding leader no matter what was going on," head coach Greg Wunderlich said. "Eli fit the mold for both of those factors, despite never having played quarterback before."

During the Knight's first five games of the season, Sawyer Thompson '22 played the position. During their game against Waverly on September 25, he broke his collarbone. Then a few plays later, the back-up Jack Huber '23 received a concussion. This forced the coaches to turn to their captain, Crnkovich.
Though being an experienced athlete who has played varsity football for the last four years, Crnkovich had only a week to learn what is considered the hardest position in football.

"Eli was put into a really difficult situation," Wunderlich said. "It is never easy to learn to play QB, much less in about four days of practice time. With that being said, we are really pleased with the way he has run the offense and kept us in good situations.""

Crnkovich took this transition in full stride, quickly learning yet another new position.

"Seeing the game from a different perspective has been a lot of fun," Crnkovich said. "It's been like playing a whole new game."

Those who have played the position also recognized the challenges that Crnkovich has faced in his transition.

"I started out as a running back when I came here so I understand the difficulty in having to pick up a different position quickly," Sawyer Thompson '22 said. ", I feel he did a great job at playing the position with what tools he was given."
Throughout his career, Crnkovich has always been looked to as a leader both by his fellow teammates and by his coaches. This is easily shown by the fact that he received captain votes by over 90 percent of the players on the football team this year.

"It is hard to create leaders. People can learn leadership skills, but very few are willing to accept the risk of leadership from a vocal standpoint," Wunderlich said. "Eli has continually exemplified the traits and characteristics of a strong-minded leader regardless of the successes or failures our team has experienced throughout his career."

In the end Crnkovich has been willing to accept all of the different roles as a part of the team.

"I would say that I've learned a lot from my time in football," Crnkovich said. "People talk trash on football players for mistakes and talk about how easy it is when in fact, it is not. It's a team sport where a lot of things have to go right and a lot of experience has to be present in order to be successful."
Leave a Comment
Donate to The Mount Online
Your donation will support the student journalists of Mount Michael Benedictine High School. Your contribution will allow us to purchase equipment and cover our annual website hosting costs.