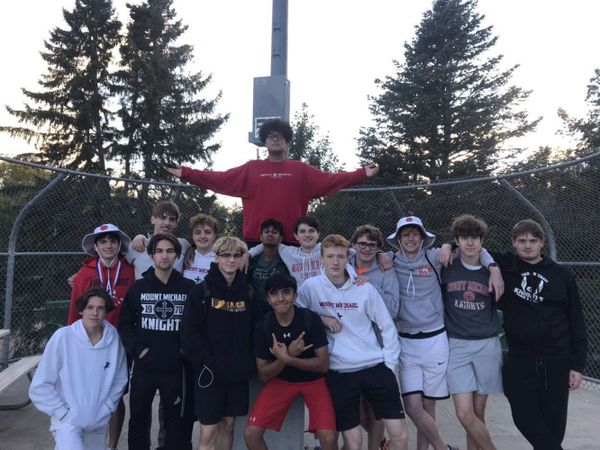 Brotherhood is a focal point of the Mount Michael experience. No other team at The Mount emulates the intense sense of community quite like the cross country team. This year's group of seniors, for example, are perfect definitions of what it means to be teammates, both on and off the trails.
The group of seniors participating in cross country this year have grown as runners together since freshman year and continue to grow with each other as brothers.
"I've been running with the same group of guys ever since I started cross country," Akilan Sivakumar '22 said. "We all have gotten to know each other really well and have lots of inside jokes that only runners would get."
Whether on varsity or junior varsity, the connection between the seniors is apparent both in and out of the classroom. This is clearly seen by a tradition started by the seniors as a way to have fun on competition days. Members of the team would post "It's race day" on their Snapchat stories, usually accompanied by a funny or amusing picture.
"The Snapchat stories are just a way to entertain ourselves and laugh at as we ride on the bus to meets," Mark Schroll '22 said. "It's cool to see all the other guys post it on their stories, and it's a good way for all of us to stay connected."
The group has not just improved their relationships, though, as their skills and running techniques have enhanced tremendously since when they were first starting off. This change in abilities was not just noted by the runners but the coaches as well.
"They got faster as runners-at least most of them did," Head Coach John Gathje said. "As teammates, they have taken on a leadership role this season that they didn't have the last three years."
The seniors this year have left a resounding impact on the cross country team. They cemented friendship and encouragement as core values every member should hold, and they are perfect examples of the Benedictine value of community.
"There's no other group of guys I'd rather run with," Sivakumar said. "Running with everyone has given me some of my greatest friendships and memories at Mount Michael."