NBA 2K23 Delights Players with Design and Gameplay Modifications
On September 8, "NBA 2K23," a basketball simulation video game developed by visual concepts, was released for Microsoft Windows, Nintendo Switch, PlayStation 5, PlayStation 4, Xbox One, and Xbox Series X/S.
Whether playing solo in MyTeam or MyCareer modes, with friends in co-op modes or simply just browsing the start menu, NBA 2K games have a way of immersing players into the game. While the game may have one notable weakness, it is one of the best titles the franchise has had to offer in quite some time.
The primary aspect most people notice when playing any NBA 2K game is the attention to detail, and "NBA 2K23" is no different. The visuals within the game are unrivaled, from the accuracy of each player's attributes, tendencies, and signature play-styles to the graphics of player movement.
In comparison to past games, the motion of players on the court in 2K23 has much smoother animations. The intricate features and coloring within the game are captivating. Examples include each fan's face and clothing, the realism of each stadium's atmosphere, and even scoreboards and real-time stats that make players feel as if they are watching the game on ESPN.
A prime example of the game's visual appeal is the new covers. Each of the six editions has its cover athlete and creative design to match them. The standard and digital deluxe versions have Devin Booker as a cover athlete and the design is one of the greatest ever. It features brilliant shades of orange faded into purple with the Phoenix desert subtly displayed in the background. It is only fitting that Michael Jordan, having worn number 23, is featured on both the Michael Jordan and Championship editions of "NBA 2K23." His covers are much simpler, yet still appealing. Additionally, two covers feature non-NBA players, displaying the game's connection to today's culture. The WNBA edition cover, which looks similar to Devin Booker's cover, features WNBA stars Sue Bird and Dianna Taurasi. And lastly, the recently announced Dreamer edition spotlights American rapper, singer, songwriter, and record producer, J. Cole.
In addition, "NBA 2K23" is more diverse than ever before. The game is less "cut-and-dry" with more game-like situations, including more realistic pass deflections and rebounds and new features like rim-hang and adrenaline boost.
Rim-hang allows players to hang on the rim after performing a dunk. Adrenaline boosts mean, according to ign.com, "Every time you make a quick cut or an attempt to drive toward the rim, you use up one of that player's three adrenaline boosts; when they're gone your ball-handler immediately loses a lot of speed." Each of these new features provides the game with even more realism and allows for more diversity and action in every play.
Though there are many areas in which "NBA 2K23" excels as a video game, there is one downside that must be addressed: microtransactions. It should not come as a surprise to anyone who has played an NBA 2K game in the past, but almost everything within the MyCareer mode comes at a cost.
Virtual currency can take time to accumulate, therefore players will find that the quickest and easiest way to upgrade their MyPlayer is to buy upgrades via microtransactions. This gives those willing and able to spend money on the game a natural advantage. Yet again, it is an unfortunate aspect of NBA 2K's experience.
Whether players purchase the game for a specific mode or intend to play with friends, they will never run out of things to do. Yearly sporting games rarely change much between editions, but if 2K keeps its production trending in the right direction, the games will see significant improvement in the next few years.
Leave a Comment
Donate to The Mount Online
Your donation will support the student journalists of Mount Michael Benedictine High School. Your contribution will allow us to purchase equipment and cover our annual website hosting costs.
About the Contributor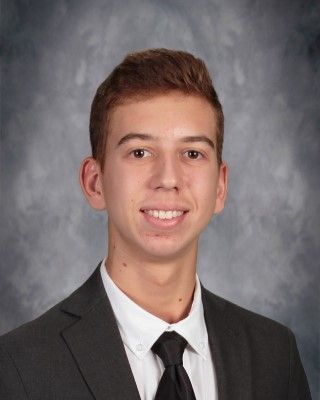 Sam Schwartz, Editor-in-Chief






Sam Schwartz joined The Mount Journalism team in 2021 as a reporter. Schwartz also participates in basketball and track & field.